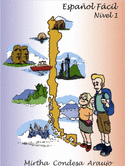 Spanish courses at Natalislang
In our Spanish language school, we offer tailored Spanish classes to beginner or experienced learners, comprehensive lessons and resources to help you achieve your Spanish language goals.
All in a very cozy atmosphere.
An Introduction to Santiago, Chile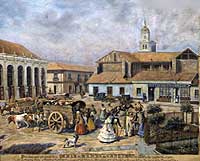 Since the beginning of Spanish colonization, Santiago emerged as an alternative way of life for many adventurers looking for fame and fortune in the New World. Dissapointed with the lack of mineral, the adventurers led by Don Pedro de Valdivia took advantage of the ideal conditions of this soil for agriculture
---
Starting with the now so-called "Plaza de Armas" square, the city was designed in such a way that the houses of important citizens were the first ones in a squared order- typical of any city in Spain- which is now known as the civic centre of Santiago. However, the relentless indigenous attacks, the permanent war in the South and the constant natural disasters kept this city with a very small population size towards the beginning of the nineteenth century.
---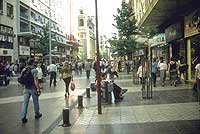 Perhaps, this is why tourists perceive it as a cosmopolitan city which still preserves the warmth of a small town isolated by mountains and sea. Despite the modernity shown by certain districs, the quick pace of its streets, and the changes in the architectural design, Santiago preserves some of its peacefulness and security of a small colonial city far from metropolises.
---
Enclosed by mountains, Santiago city represents a geographic centre (also as an administrative, economic and cultural centre) from which it is possible to travel through a diverse landscape: the sea, the mountain and fertile valleys where the Chilean wine is grown. This is the reason why, people can enjoy many different outdoor activities within a 100-kilometre radius, while living in Santiago.
---
Places to see and things to do
[ View this blog ]
---
Where to .....
[ View this blog ]
© Copyright Natalis Language Centre 2023