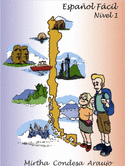 Spanish courses at Natalislang
In our Spanish language school, we offer tailored Spanish classes to beginner or experienced learners, comprehensive lessons and resources to help you achieve your Spanish language goals.
All in a very cozy atmosphere.
Chilean Cutltural tips
Always leave your hostel or home stay room locked.
When walking around the city, take the FOTOCOPY of your passport. Leave the original at home.
NEVER leave your backpack or bag on the next empty seat or in the floor without taking precautions.
DO NOT keep your camera hanging from your neck and showing it to everyone. Keep it always in your hand and with the string around your wrist.
Be discrete when taking money off the bank or machine. Do not count it on public.
If you're a jewelry lover, keep loving your own at home. Fake ones look just fine in the street and you wont have to take risks.
About money, take only what you need when you're going out. Never carry more than $40.000 Chilean pesos with you unless it is necessary. Leave your cards at home or take it in a safe pocket.
| | |
| --- | --- |
| Expression / word | Meaning |
| ¿Cachay?: ¿Entiendes? | ¿Do you understand?, ¿You got it?, ¿You know? |
| Po': Pues. Expresión usada para enfatizar la oración. Ej: Sí po', No quiero po'. | Expression used to emphasize the sentence. (E.g. "though"). |
| Al tiro: ahora mismo, de inmediato. | Right away, immediately |
| Bakán: Genial | Cool |
| Copete: Alcohol | Booze, Alcohol. |
| Huevón: una persona tonta. También se usa entre amigos como "compañero". Pronunciación: /weón/ | Dumb, stupid. Also used among friends as "pal" or "dude". Pronunciation: /weón/. |
| ¿Qué onda? = ¿Qué sucede? ¿Qué pasa? | ¿What's up? |
| No cacho una : no entiendo | I don't understanding |
| ¡Ándate a la chucha! : expresión de enojo para que alguien nos deje de molestar. Variantes: Ándate a la punta del cerro, Ándate a la cresta, Ándate a freír monos, ¡Chúpalo!, ¡Salpica! | F_ck you! Go to hell! |
| Me tiré: me equivoqué. Variantes: la cagué, la embarré | I screw it up |
| Se rajó: 2 significados: (1) Él/ella/usted me compró algo, me dio algo gratis. (2) Él/ella usted cometió un error. | Two meanings: (1) He/she/you bought me something, gave me something for free. (2) He/she/you made a mistake. |
| La lleva: Él/ella/eso es genial. | He/she/it is cool. |
| Chao pescao: Adiós, chao. | See you later, alligator. |
| Estoy chato: Estoy cansado | I'm tired. |
| ¡Adónde la viste!: No te creo, expresión usada para demostrar que no creemos lo que nos dice. | No way! I don't believe you |
| Tollero (a): Mentiroso (a). | Liar. |
| | |
| Hacer perro muerto : salir de un restaurante sin pagar lo comido | To leave a restaurant without paying the bill |
| Carretear: Festejar con amigos, ya sea en casa o en otro lugar como pub, discotheque, bar, etc. | To party |
| Se echó al pollo : Él/ella se fue sin aviso | He/she took off |
| Tiene malas pulgas : tiene mal genio | He/she have a bad temper |
| Ser cargante : molestoso | Being annoying |
| Echar puteadas : decir groserías | To swear at |
| Agarrarse a coscachos : pelear | To fight |
| Sapear: Fisgonear. | To snoop, to pry |
| Estoy con la caña : malestar producto del trasnoche y de las bebidas alcohólicas. Variante: Andar con la mona | I have a hangover |
| Estoy curado : andar ebrio. Variación: Estoy arriba de la pelota | I'm drunk |
| Pajearse: autosatisfacción erótica masculina | To jerk off |
| Tomarse unos pencazos : beber | To have shots of alcohol (any kind) |
| Hacer una vaca : recolectar dinero entre amigos | To collect money between friends |
| Yo me rajo : yo pago | I pay. It's on me. |
| No estoy ni ahí : desinterés, persona indiferente | I don't care. |
| Jugar una pichanga : jugar un partido de soccer | Play an informal soccer match |
| Comer una pichanga : comer una comida típica llamada pichanga | Eat a Chilean dish called Pichanga |
| No veo ni uno : no tengo dinero | I don't have any money |
| No doy ni una: no entender como hacer algo | I don't understand how to do it |
| Dejar la embarrada (la cagada) : provocar daño | To screw it up |
| Correr mano : tocarle las partes íntimas a alguien sin su permiso | To touch someone's private parts without permission |
| Pegarse un atraque : besarse apasionadamente | To kiss in a passionate way |
| Echar una ojeada : mirar. Variante: Echar un looking. | To take a look |
| Echar una cana al aire : salir a divertirse, tener relaciones sexuales | To go out and have fun, to have sex |
| Echarse un polvo: tener un coito | To have sex |
| Irse de parranda : salir a divertirse | To go out and have fun |
| Cabecearse : concentrarse | To concentrate |
| Cabecear : andar durmiendo | To get asleep |
| No las para : no se da cuenta | Someone who doesn't realize about something |
| Creerse la última chupada del mate: creerse que se es lo mejor. Egocéntrico. Variante: Creerse la muerte. Creerse el hoyo del queque. | To think you're better than anyone |
| Ser alharaco : ser exagerado | To over react |
| Ser chamullento : alguien muy locuaz al hablar y un poco mentiroso | Someone who talks a lot lying about stupid things |
| Se te cayó el cassette : decir una palabra o un secreto delante de una o más personas indebidas | To tell a secret to people who don't suppose to know it |
| Tomar al seco : beber de un solo sorbo | To finish a drink with one swallow |
© Copyright Natalis Language Centre 2023