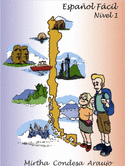 Spanish courses at Natalislang
In our Spanish language school, we offer tailored Spanish classes to beginner or experienced learners, comprehensive lessons and resources to help you achieve your Spanish language goals.
All in a very cozy atmosphere.
Natalislang International Language Centre, Spanish on-line classes, Santiago, Chile
Natalislang Levels:

Natalislang has designed, among others, three books that cover Level 1, for beginners, Level 2, for intermediate students and Level 3, for advanced students
At the end of each level, the students must take a written and oral test
with a pass rate of 70% in order to continue with their learning process.
© Copyright Natalis Language Centre 2023