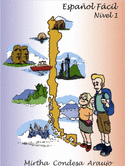 Spanish: Online classes!
For your convenience and well-being we are, for the moment, limiting our classes to
Online Classes only!
Inglés: Clases online
Para su comodidad y bienestar, por el momento, estamos limitando nuestras clases a
¡Clases en línea solamente!
Online classes, Clases en linea
Natalislang Spanish Courses in Santiago & Valparaiso, Chile: Private One on One

Cursos de Español privados, Santiago y Valparaíso, Chile.

One on One Spanish


The private lessons will always have the advantage to create a mutual understanding between the student and the teacher combined with a magical atmosphere where the student feels free to develop without pressure the four skills of the language.
Available in Santiago & Valparáiso. (All levels and subjects).

More details...

Description:

 Individual attention from a qualified teacher helps you learn better and the private classes are made in a way that fits your own unique situation.The main goal of this course is to assist people who are working or studying and need support in the Spanish language.
For travellers, the main goal is to help you get by during your stay in South America. Although grammar is taught, the course is designed to give you a hand with everyday situations, like ordering food at a restaurant, and to help you communicate in a friendly way with native speakers, including your host family.
If you are living in Chile willing to learn Spanish and you do not have time to come to our school, then this is the best option you have.
Our teachers go to your home or office and you will be able to learn the same contents with the advantage of having private Spanish lessons in your own place.

Duration / Schedule:

You can schedule your classes according to your time availability. You also learn at your own pace. You can start the course at any day of the week. Courses are available from beginners to advanced students

Work materials:

Free enrollment… no hidden fees!

| Sessions / min. 2 per class | Price per session |
| --- | --- |
| 20 - 60 at Natalislang | $ 12.000 ( US$ 20, € 16, ? ) |
| 61 - 120 at Natalislang | $ 11.000 ( US$ 18, € 15, ? ) |
| 20 - 60 at Home / Office | $ 16.500 ( US$ 27, € 22, ? ) |
| 61 - 120 at Home / Office | $ 15.400 ( US$ 26, € 21, ? ) |

* Minimum two sessions per class.
* 1 session = 45 minutes
** Home prices could change according to location.

Contact form

ALTE criteria:

Español Fácil Nivel 1 Level 1, for beginners (ALTE A1 – A2).

Duration : 40 to 60 sessions
Includes: Español Fácil Nivel 1 Book + Written Exercises Book + Verb Flashcards Set
Sublevels: ALTE A1 – A2

Description: On this level you will familiarize yourselves with the following grammar constructions: I play, I am playing, I am going to play, I have played, I have to play, I like to play, I want to play, I can play and I would like to play.Basic idiomatic expressions and useful verb combinations. A large part of this level is also concerned with basic conversation and oral practice.



Español Fácil Nivel 2 Level 2, for intermediate students (ALTE B1 – B2).

Duration : 40 to 60 sessions
Includes : Español Fácil Nivel 2 Book + Verb Flashcards Set
Sublevels : ALTE B1 – ALTE B2

Description: At this level you will begin to move onto harder grammar concepts such as the past simple, past imperfect, and past perfect tenses: I played, I was playing and I had played. In addition we teach you how to begin using the future, and the conditional tenses. Again conversation and listening exercises, both written and oral, are an important part of this level.



Español Fácil Nivel 3 (ALTE C1). Level , for advanced students (ALTE C1).

Duration : 60 to 80 sessions
Includes : Español Fácil Nivel 3 Book + Advanced Book: Readings.

Description: Finally at the third level we will spend time on reviewing all you have already learnt, putting it into speaking and written practice. You will also learn a very important part of the Spanish language; the Subjunctive mode. It gives the students the confidence to express their emotions, wishes, feelings, desires, hopes and commands in Spanish

At the end of each level, the students must take a written and oral test
with a pass rate of 70% in order to continue with their learning process.



About ALTE:
The Common European Framework of Reference for Languages: Learning, Teaching, Assessment, abbreviated as CEFR, is a guideline used to describe achievements of learners of foreign languages across Europe. It was put together by the Council of Europe as the main part of the project "Language Learning for European Citizenship" between 1989 and 1996. Its main aim is to provide a method of assessing and teaching which applies to all languages in Europe. In November 2001 a European Union Council Resolution recommended using the CEFR to set up systems of validation of language ability. The six reference levels (see below) are becoming widely accepted as the European standard for grading an individual's language proficiency.

The CEFR describes what a learner is supposed to be able to do in reading, listening, speaking and writing at each level.

Level Descriptions:

A1 Can understand and use familiar everyday expressions and very basic phrases aimed at the satisfaction of needs of a concrete type. Can introduce him/herself and others and can ask and answer questions about personal details such as where he/she lives, people he/she knows and things he/she has. Can interact in a simple way provided the other person talks slowly and clearly and is prepared to help.

A2 Can understand sentences and frequently used expressions related to areas of most immediate relevance (e.g. very basic personal and family information, shopping, local geography, employment). Can communicate in simple and routine tasks requiring a simple and direct exchange of information on familiar and routine matters. Can describe in simple terms aspects of his/her background, immediate environment and matters in areas of immediate need.

B1 Can understand the main points of clear standard input on familiar matters regularly encountered in work, school, leisure, etc. Can deal with most situations likely to arise whilst travelling in an area where the language is spoken. Can produce simple connected text on topics which are familiar or of personal interest. Can describe experiences and events, dreams, hopes & ambitions and briefly give reasons and explanations for opinions and plans.
B2 Can understand the main ideas of complex text on both concrete and abstract topics, including technical discussions in his/her field of specialization. Can I interact with a degree of fluency and spontaneity that makes regular interaction with native speakers quite possible without strain for either party. Can produce clear, detailed text on a wide range of subjects and explain a viewpoint on a topical issue giving the advantages and disadvantages of various options.

C1 Can understand a wide range of demanding, longer texts, and recognize implicit meaning. Can express him/herself fluently and spontaneously without much obvious searching for expressions. Can use language flexibly and effectively for social, academic and professional purposes. Can produce clear, well-structured, detailed text on complex subjects, showing controlled use of organisational patterns, connectors and cohesive devices.

C2 Can understand with ease virtually everything heard or read. Can summarize information from different spoken and written sources, reconstructing arguments and accounts in a coherent presentation. Can express him/herself spontaneously, very fluently and precisely, differentiating finer shades of meaning even in the most complex situations.

Quick conditions summary
Flexible schedule
Our groups are a maximum of 5 students and the sessions last 45 minutes.
We offer 5% discount for ITIC, ISIC and IYTC card holders (cards MUST be presented before payment)
Lessons on weekends have a 5% extra fee.
The learning materials corresponding to the student's current level will be given after payment. In the case of loss, theft or extra requirements, all the Natalislang materials can be purchased at the school administration.
The student cannot continue with the program if he/she has not paid the total program cost by the second day of class.
After course confirmation, the administration personnel will contact the student one week before his/her arrival.
The payment of differences between one course to another is not allowed (e.g. if you pay for 2 weeks and want two more weeks, you have to pay the price corresponding to the 2 week program and not the difference to a 4 week program).
Free! wireless internet access for all our students while on the premises.
Note! The payment must be done the first day of class.
We appreciate if you pay in Chilean pesos.
Tours & extra costs are not included in the course prices.
We encourage students to communicate any compliment, complaint or suggestion on time and not to wait until the last day of class.
If the student needs to cancel or postpone the lessons, he/she must give the school at least 24 hours notice, or the session will be lost at the student's expense.
By rule, a refund would not be given if you withdraw. If for whatever reason a student needs to freeze his/her sessions, the course fee may be credited towards a future course for up to six months from the last lesson taken, after which the fee is no longer valid. You are allowed to transfer your sessions to a friend or student.
"We accept Visa, MasterCard, Magna, American Express, Diners Club and Discover cards" with a 5 % extra fee.
View our policies

.
© Copyright Natalis Language Centre 2021