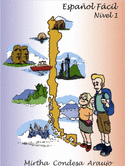 Spanish: Online classes!
For your convenience and well-being we are, for the moment, limiting our classes to
Online Classes only!
Inglés: Clases online
Para su comodidad y bienestar, por el momento, estamos limitando nuestras clases a
¡Clases en línea solamente!
Online classes, Clases en linea
Natalislang International Language Centre, Spanish on-line classes, Santiago, Chile

Natalislang:

Our activities:

Comprensión De Lectura

(Reading – comprehension and practice)

This tool is perfect for improving your reading skills.

Students have to choose a text or an extract from a book (according to the options provided by Natalislang) in order to read it and then answer some questions about its plot. Besides the comprehension questions, they will also receive a couple of extra exercises to practice their grammar and increase their vocabulary.

After finishing this exercise the students will be able to access a 45 minutes lesson* with the teacher in order to check their answers, receive some feedback and solve some doubts they may have.

One on one session duration: 45 minutes
Level: Beginner - Advanced
Practice with a native teacher

*Due to different time zones, your lesson will need to be scheduled beforehand by an email which is going to be sent once you purchase your activity.
© Copyright Natalis Language Centre 2021